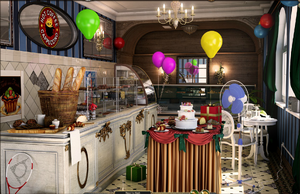 Main article: Secrets of Paris
Here you can buy sweets and fresh baguette.  Isn't it wonderful to walk home listening to a familiar French melody and eating fresh bread?
| | |
| --- | --- |
| Unlock | 60,000 Coins or 55 Crystals |
| Entry fee | 36 energy |
| Duration | permanent |
| Search fee | max. 60 energy |
Items to Get
Edit
Special Items are things you can only get here and nowhere else. Regulars can be found in several locations. There are no dedicated quests for finding regulars, at least not after you have found them for the first time. After the quest, specials are getting regular.
Ghost Banishers
Ghost Trap, Phial of Darkness, Old Amphora, Paranormal Trap, Genie's Dwelling
Energy Sources
Soda, Energy Jam, Ethereal Catalyst, Bio-module
Gadgets
Bell, Hammer of Thor, Phase Watch, Solar Lamp, Magic Magnifying Glass
Helpers
Striped Shirt, Black Beret, Juggler's Knives, Clown Boots, Refreshing Dew, Silicon Flint, Bright Button, Thorium Ore, Golden Mask, Dragon Egg
Maya Rune Chests
Small, Medium and Large Kit for Beginners
Beast Rune Chests
Small, Medium and Large Hunter Kit
Dragon Food
Lunar Nectar, Honey Drink, Sweet Roots, Sugar Cane, Azure Grapes
Trophy
Bag and Baguette
Special Items
Book of Elves: Plash of Sunlight
Magic Sphere: Bronze Scales
Orion Radiance: Voice of Hope, Heavenly Nebula, Icy Substance, Magnetic Spinning Top, Bright Zigzag
For quests please look at the Quests page!
Search Thingies
Edit
| | |
| --- | --- |
| Baking Tin | |
| Balloon Dog | |
| Banana | |
| Bicycle Helmet | |
| Bunch of Flowers | |
| Chocolate Egg | |
| Christmas Candy | |
| Coffee Bean | |
| Colorful Candy | |
| Cook Hat | |
| Drums / Tamtam Drum | |
| Garlic | |
| Hummingbird | |
| Jam / Preserve | |
| Letter F | |
| Mitten | |
| Paper Bag | |
| Party Hat | |
| Poker | |
| Pretzel | |
| Ribbon | |
| Rolling Pin | |
| Round Loaf | |
| Scooter | |
| Umbrella | |