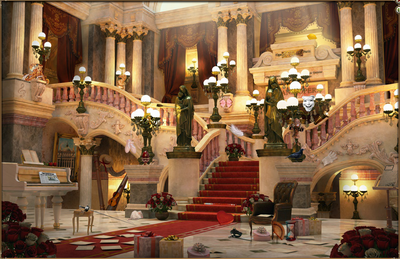 Main article: Opera Theater
Visit the Opera Theater! This is the place where poetry, the scenic and vocal art, music, choreography and costumes form absolute harmony. This beatuíful union comes to life following the magical Baton of the Conductor.
Expedition
Edit
Type: Phantom Dragon
Food: 22,000
Feed Times: 58
Expedition Time: 2 h
Room Time: 6 h
| | |
| --- | --- |
| | 3, 20, 20, 1, 2, 2, 2, 2, 10 |
| | 2, 10, 10, 1, 2, 2, 2, 10 |
| | 1, 5, 5, 1, 2, 1, 10 |
| | 2, 2, 1, 1, 10 |
Items to Get
Edit
| | |
| --- | --- |
| Ghost Banishers |       |
| Energy Sources |         |
| Gadgets |           |
| Helpers |     |
| Maya Rune Chests | Small, Medium and Large Kit for Beginners |
| Beast Rune Chests | Small, Medium and Large Hunter Kit |
| Dragon Food | |
| Trophy | Phantom of the Opera (part of the reward chest) |
Opera TheaterEdit
Prosper Bull: Our fast horses have brought us to the Opera Theater very quickly. Now you can walk up this beautiful staircase.
Explore the Opera Theater
Prosper Bull: The interior of the Opera Theater is absolutely breathtaking. The building doesn't look one hundred years old. On the contrary, I would think that the Theater has been build just recently. Anyway, we still don't know the name of the performance.
Phantom's MaskEdit
Quest
Item
Mode
Ghost
Opera Scores
Opera Scores
--
--
Old Mirror
Old Mirror
Shadows
--
Stage Lights
Stage Lights
Night
--
Angel of Music
Angel of Music
Jumbled
--
Jacqueline's Kiss
Jacqueline's Kiss
Shadows
--
Phantom's Story
Sheet Music
G-Clef
--
Bellman
Trumpet Player
Prosper Bull: The Phantom will let us through and will allow the actors to start the performance if he has a mask to cover his ugly face. When the Phantom wears his mask he stops worrying about his appereance. He sings only when in his mask. Believe me the Phantom has a terrific voice.
Prosper Bull: Gerard and Jacqueline are happy together. The Phantom has let them go, but he is still terribly lonely. He is a prisoner of his repulsive appearance. So, he has to hide his face by wearing a mask. Once a year the Phantom turns on the lights in the Theater and listens to music which has become the only purpose of his life.
Orchestra CohesionEdit
Quest
Item
Location
Mode
Ghost
Premier Violin
--
Premier Violin
Café
Opera
Shadows
Puzzle
--
Panpipe
--
Panpipe
Study
Opera
--
Shadows
--
Romantic Trombone
--
Trombone
Hotel Room
Opera
Reverse
Jumbled
--
White Grand Piano
--
Piano Keys
Library
Opera
Night
--
--
Bass Drum
--
Bass Drum
Fashion Boutique
Opera
--
Night
--
Eleanor: Of course, Orchestra Cohesion depends on its conductor. Hopefully, we'll find the Conductor's Baton and give it to our Conductor. The performance must happen!
Eleanor: The orchestra and the conductor are ready. The lobby is full of people. There are so many posh ladies and gentlemen here! Just look at their glamorous outfits. I have an impression that we are in the nineteenth century. I am so excited! Let's enjoy this wonderful moment. We'll get back to the mysteries of this place a bit later.
Get the reward!
Edit
Open the event icon in RoM and click on "Reward" at the bottom of the page. You can collect the reward as long as the event is running. So be sure to be in time! You can keep the reward in your backpack as long as you like. Before you open it, be sure that you check your  

and  

status. If you're short before levelling up and still have  

, make sure to use your energy up before opening the chest.
Search Thingies
Edit
| | |
| --- | --- |
| Arrow | |
| Automobile License Plate | |
| Ballet Shoes | |
| Bow | |
| Candy Box / Chocolate Candies / Heart | |
| Fabregé Egg | |
| Fan | |
| Feather | |
| Flute | |
| G Clef | |
| Horse Figure | |
| Hourglass | |
| Lemon | |
| Miners Flashlight | |
| Newspaper | |
| Octopus | |
| Opera Glasses | |
| Puppet | |
| Raven | |
| Straw Hat | |
| Sword | |
| Venice Mask | |
| Violin | |
| White Glove | |
| White Mouse | |