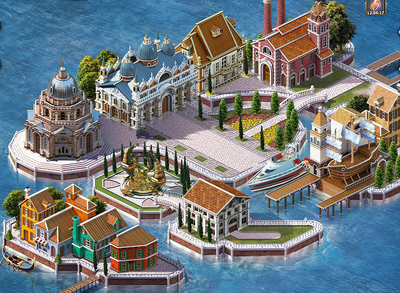 The waves and a light breeze are so refreshing! The Portal has been unlocked. Welcome to Venice! Here you can take a gondola ride, have some delicious pastries for breakfast in a local café, and take a walk along the Cheese Yard. Moreover, you will have a chance to enjoy colorful houses in Burano Island, visit the Stained-Glass Workshop, and enjoy the Music Palace!
The purpose of your trip to Venice is to find Estelle. The Professor has left very clear instructions for this trip. However, no one knows who Estelle is and where she can be found. When in Venice, you'll meet two new characters, a gondolier named Mateo and girl named Chiara. They will help you find Estelle and assemble the Relic which is necessary to unlock the portal!
You can meet a Pirate, the Harlequin, and the Queen of Spades in the streets of Venice. Help these creatures find the items that they need to participate in the Venetian Carnival. They will pay you back with the same coin and will give you the charges for Artifacts!
Residents
Edit
Mateo, the Gondolier Chiara Creatures: Queen of Spades, Harlequin, Pirate
| | |
| --- | --- |
| Unlock | 95,000 Coins or 55 Crystals |
| Entry fee | 45 Energy |
| Duration | permanent |
| Search fee | max. 65 energy |
| | |
| --- | --- |
| Unlock | 100,000 Coins or 55 Crystals |
| Entry fee | 45 Energy |
| Duration | permanent |
| Search fee | max. 65 energy |
| | |
| --- | --- |
| Unlock | 105,000 Coins or 55 Crystals |
| Entry fee | 45 Energy |
| Duration | permanent |
| Search fee | max. 65 energy |
| | |
| --- | --- |
| Unlock | 110,000 Coins or 55 Crystals |
| Entry fee | 45 Energy |
| Duration | permanent |
| Search fee | max. 65 energy |
| | |
| --- | --- |
| Unlock | 115,000 Coins or 55 Crystals |
| Entry fee | 45 Energy |
| Duration | permanent |
| Search fee | max. 65 energy |
| | |
| --- | --- |
| Unlock | 120,000 Coins or 55 Crystals |
| Entry fee | 45 Energy |
| Duration | permanent |
| Search fee | max. 65 energy |